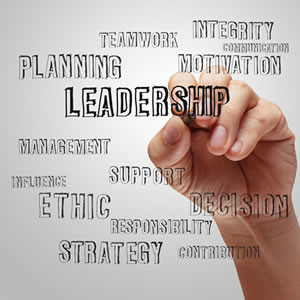 What Does Your Leadership Look Like?
A great deal of intelligent and credible research, and no doubt your own personal experience, highlights the fact that people's performance is often directly related to the leadership behavior demonstrated by their manager.
So as a leader, what you do to set the example to your staff and what you promote through your behaviour gets witnessed by your colleagues, peers and clients and therefore, is of the utmost importance.
Is it leadership? Management competence? Individual skill development? Or, accepting responsibility and accountability? These are words that progressive organisations don't just speak, they demonstrate how seriously they take development by the actions they convey. They know that allocating time and resources towards the development of both individual leaders and refining the skills of various team members is critically important for present and future success.
For any organisation it is important to build a solid foundation in which to move forward.
Each leader will want to understand their own strengths and limitations, along with those they work with. They will also want to know something about personality and leadership styles to help them align their role and the role of others. In addition, it will be helpful understand stress behaviours which can easily turn an overused strength into a weakness.
If someone is diligent and hardworking there is a strong likelihood that under stress they will become somewhat of a perfectionist. This could translate in to a weakness by them being overly detailed therefore delaying decisions that will move a project forward.
 If a person can freely influence others then under stress it is likely they will become more assertive in their views with the potential weakness of an inability to listen and take in another's point of view.
We offer specifically tailored leadership development programmes that align with your organisational objectives and individual performance requirements. Your people will be empowered with the tools and the inspiration to achieve greatly improved business results.
We know only too well that becoming an effective leader is a journey, not a sprint. It takes a commitment on the part of the emerging leader and on the part of the company. This is why today's progressive leaders, along with their teams, are using our Seminars that combine Executive Coaching  as a powerful way to develop and educate their leaders
We would welcome the opportunity to discuss your Leadership Development requirements and provide you with some bespoke options.