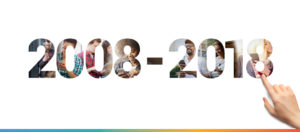 A decade ago, today I emerged from the customs hall in Terminal 1 at Dubai International Airport to embark upon a new chapter in my career and a brand-new phase in life.
Where we are today is the result of the decisions we've made along the way where some work out well and some? not so well and it's how we respond to situations when those less than perfect decisions have been made, that is the ultimate key to growth (personally & professionally) and success.
The decision to walk away from an organisation that I loved as much as the people within it after 11 years was without doubt one of the hardest I had to contemplate to that point in time.
It took months to finally pluck up the courage to go with my gut instinct that had been nagging me for so long and step out of the warm and fluffy comfort zone and choose to grow to the next level, whatever that would be!
Back in 2008, I was intensely focused on my role as Head of Radio 2 for Gulf News Broadcasting and for a time, that was enough, but I knew this sense of fulfillment wouldn't last for the longer term.
We constantly hear examples of people finding their purpose in areas of profession that they had not previously imagined possible in their wildest dreams and yet they go on to make an immense impact on the lives of all they touch as they continue along their journey.
The learnings that have come out of my UAE experience are priceless and will always serve me and those I work with extremely well.
"Has it been challenging? You bet! Have there been moments of regret about coming here? None at all!"
I could have stayed with my previous employer and gone on to enjoy a lengthy and stable career path travelling the world producing, presenting and managing radio stations delivering programming to one of the best audiences any broadcaster could wish for however, I had to go in search of something else.
That "something else" is YouNique Consulting which gives me the opportunity to work with individuals and organisations help them grow in areas where they require specific support in their business which includes: Talent Management, Leadership Development, Cultural Intelligence, Executive Coaching, Confidence & Clarity and Creating High Performance Teams.
To quote the great Marshall Goldsmith, "What Got You Here Won't Get You There" – first we must be open to being self-aware and recognise that there is always opportunity for growth within us.
Listening to that inner voice, believing in myself (even when at times that same voice was screaming at me to run in the opposite direction) and investing in myself to get me where I needed to be for me to be able to give back to others, has been a revelation to what any of us can achieve at any given time and this is only the beginning!
I would like to take this opportunity to thank some of the most amazing people that I have met along the way for their support, mentorship, coaching and belief in my abilities as well as urge the ones that I left all those years ago, that it's never too late to take action and change the direction of your life situation.
"The most difficult phase in life is NOT when no one understands you. It's when you don't understand yourself"
If you need help to make the transition to fulfill your purpose, I can help you in ways similar to how I've helped a successful Petroleum Engineer gain global recognition as landscape photographer who now travels the world living out his passion. Contact me today on darren@youniqueconsulting.com / www.youniqueconsulting.com